Mushkpuri Top is also the  famous top like the Miranjani Top in Nathia Gali. This mountain top is 2,800 m (9,200 ft) high and second highest mountain in the region of Galiyat of KPK. There is an amazing weather or scenery at the top ( Lush Green Meadows in summer and fully covered with Snow in Winter). Mushkpuri top is lies in the area of National Ayubia Park. 
https://youtu.be/z_LWcwhHfHQ
Table of Contents
Add a header to begin generating the table of contents
Lahore to Mushkpuri Top
Mushkpuri Top is almost 498 Km away from Lahore. The route is very easy and carpeted roads if you travel through Motorway. If you travel through local buses then the best way is to first reach at Faizabad in Rawalpindi. Then you can pick one of the local Apv van to reach at the Kuldan Kashmir Road and then there are also Sazoki vans there which will drops you at the Nathia Gali. There is also private Taxis at Faizabad that will drops you at Nathia Gali.
Tracks for Mushkpuri Top
There are two hiking tracks (Nathia Gali Track and Dunga Gali Track) to reach at the Mushkpuri Peak. Both tracks are easy to hike for families as well.  
Nathia Gali Track for Mushkpuri Top
If you chooes the Nathia Gali Track for a hike to reach at the top then it's best decision you take. You have to hike almost one and half our to reach at the top. There is also an Lalazar Wildlife Park at the mid of the track. At this point you can stay and there are as well refreshment shops by the locals. 
After stay you can continue your track to the Top but the next part of the track is little bit tricky and difficult for the families. Hiking is incomplete if there is not difficult part in the track. There is still need of about 40 min to reach at final destination. You will see the dense alpine forests in this section of part. These forest views are amazing and horrible if you are hiking alone. There are amazing different colors of flowers during the track that will refresh you.
  After stay and enjoying I will recommend you to choose a Dunga Gali Track to come down and enjoy the beauty of that track as well. 
Dunga Gali Track for Mushkpuri Top
The Dunga Gali Track hiking distance is also same as like the Nathia Gali track. Almost one and half hour required to reach at the top. The track is easy for hike and you will see the beautiful flowers during the track according to the seasons. There are dense Alpine forest views during the track. This track is also easy for families as well. 
I will recommend you to choose the Nathia Gali track to come down after an relish stay. Because there is an Lalazar Wildlife Park in the mid of the track.
Beauty of the Mushkpuri Top
After an one or two hour of hike according to your power the stunning Mushkpuri View welcomes you and that view will refresh your soul. There are small lush green meadows at the top and animals grazing in the meadows increase the beauty. Thee clean environment, refreshing air and scenery will bound you and not let you go back.
Weather at Mushkpuri Peak
Weather swings in minutes at the Mushkpuri peak. I assure you you will enjoy the scenery and beauty of the meadows in different weathers at the same day. Temperature at the Mushkpuri top is between 8 to 10 Celsius and 0 to 4 Celsius in winter. If you are visiting Mushkpuri in winter then you will also enjoy the Snow falling.
Refreshment Shops at Muhskpuri Top
There are refreshment shops at the top as well by the Locals. There will offer you Pakistani Tea (Chay) with biscuits and water bottles in very reasonable prices. 
I hope in this guide, I covered all most all the aspects and still if you had an any question write to us. 
Read Also: Leepa Valley in Azad Kashmir
About The Author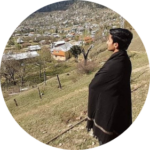 Muhmmad Yasir Ali